What is a wet signature, and are electronic signatures better?
Electronic signatures are becoming more common, and you may be considering if you should convince your team to move towards e-signatures. In this article, we explore what wet ink signatures are (a.k.a. the conventional approach), how they differ from electronic signatures, and when these signing methods may still be relevant.
What is a wet signature?
First and foremost - what's a wet signature? A wet signature, also known as a wet-ink signature, is the use of a physical signature made by hand with a pen to signify the acceptance (by the party signing) to be bound by the terms of the document. Wet signatures have been used for a long time. Many government agencies and businesses still sign documents and contracts using wet signatures today for various reasons, from organisation preference to rules, regulations and legislation governing the execution of certain contracts.
Pro tip: Contracts typically require all the parties to sign the document before it becomes enforceable. However, that doesn't mean you can escape payment if you intentionally avoid signing the contract. The appeals court ruled that where all parties do not sign a proposed contract but one party continues to perform the work, an implied contract forms under the terms of that proposal. In many jurisdictions, there are also similar legal principles.
Comparison: What's the difference between a wet signature and an eSignature?
A wet signature, as explained above, is a handwritten signature in wet ink. In contrast, eSignature is an electronic representation of a person's signature usually captured via an electronic process (such as on a document rendered on the signer's internet browser). The electronic signature could be any sound, symbol, or process attached to or somehow included or associated with the contract by a party with the intention to sign.
The easiest way to understand the difference between a wet signature and an eSignature is to consider perhaps the advantages and disadvantages of both methods of signing. To further clarify, a wet ink signature, which is a term used interchangeably with a wet signature, refers specifically to the act of physically signing a document using ink on paper. The easiest way to understand the difference between a wet signature, or wet ink signature, and an eSignature is to consider perhaps the advantages and disadvantages of both methods of signing.
What are the disadvantages of collecting wet signatures?
Although wet signatures, meaning physically signed with ink on paper documents, have been used as the primary way of signing contracts for many years, it does have some significant disadvantages:
It

takes much longer

to get a physical document sent to the various parties and to collect the wet signatures, as compared to using electronic documents and eSignatures

You depend

on delivery services

and couriers and must work within their collection and delivery timeframes, including on weekends and public holidays.

Printing and sending the paper documents to the various signers costs more.

It is a

hassle

to have to scan the signed documents for record-keeping

It is not environmentally friendly,

especially if you are signing one original document for each party to the contract
These disadvantages of physical handwritten signatures became even more apparent during the pandemic when getting everyone in the same room to sign contracts was impossible. As a result, the adoption of electronic and digital signatures was accelerated across many organisations, and there was a greater appreciation of the benefits of electronic signatures.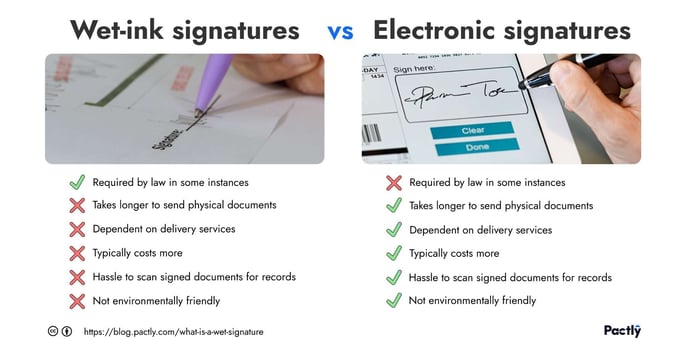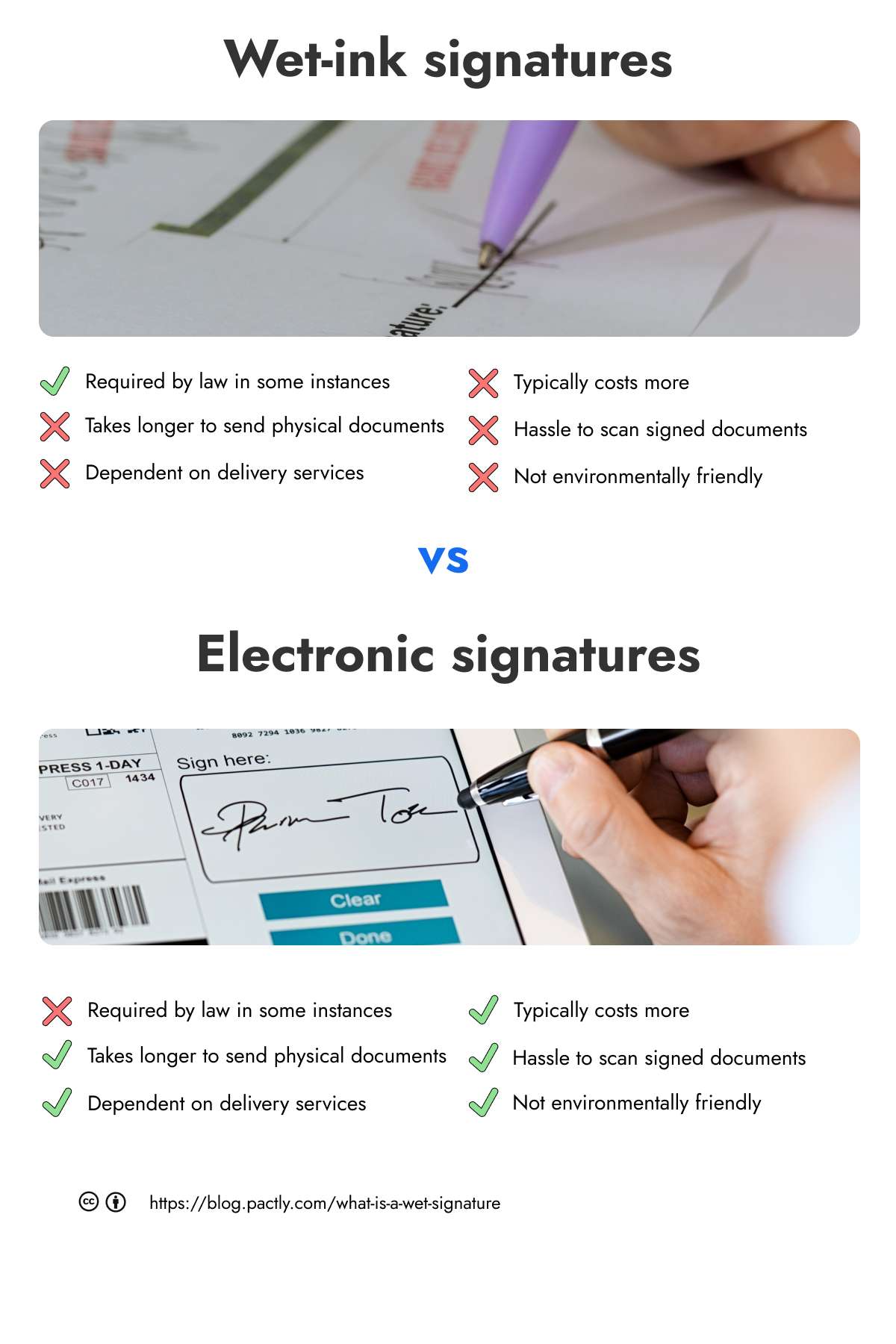 How can you benefit from electronic signatures?
Understanding the benefits of electronic signatures is often viewed through the lens of the disadvantages of wet signatures:
1) Shorter turnaround time
Mailing a physical document to the counterparty(s), collating their signature pages, scanning the entire bundle and circulating the fully signed/compiled document typically takes days, if not weeks. You can simply set who needs to sign and even the signing sequence using electronic signatures. The fully signed document is sent to all parties when everyone has signed. Electronic signatures reduce turnaround time by an average of nine days, or roughly an 80% reduction in turnaround time (according to a LunarPen study in 2020).
2) No more dependencies; signing is possible anytime and anywhere
Companies that collect wet signatures rely heavily on their delivery services and couriers. If you're in a rush to get things signed, you'll have to check with these partners as to their speed and if they operate outside the normal business days and on public holidays. In urgent cases, you may even have to deliver these documents yourself. eSignatures simplify this process since the relevant signing parties receive the document electronically, and everyone has a business email account these days.
3) Cost savings
It's not only the cost of the ink and the paper, but most significantly, the courier fees that you have to include (especially for public holidays, express services and overnight) that can add up to quite a bit, making the traditional wet signature approach more expensive. It has been suggested that businesses using e-signature tools can reduce document handling costs by as much as 85%.
4) Contribution to the Environment
Using technology to make life easier while becoming more environmentally friendly should be the obvious choice. Gallons of water and many trees are saved by adopting a paper-free solution to contracts and contract signing.
5) A more secure way of handling confidential documents
Another benefit (which some may find controversial) is that although wet signatures are harder to forge, they are not as secure as well-built eSignatures solutions. eSignatures use IP addresses and geo-tracking, which means that only the right person can sign, and the digital trail behind each signature cannot be easily forged.
Moving to a digital contracting process
Introducing electronic signatures to your organisation has numerous benefits and is also a critical step if you wish to digitalise your entire contracting process. In preparing for such a transition, you should consider the following:
Establish an estimate of the costs of the existing signature approach (including courier costs, and the time costs of printing, collating and subsequently scanning the signed contracts).

Evaluate your electronic signature options; DocuSign and AdobeSign are the common options, but there are many others like HelloSign, eSignatures.io, SignRequest, SignNow, and ZohoSign are possible alternatives.

Put in place a signing matrix and communicate this to your team — which contracts can be e-signed and which should be signed via wet signature.
Pro Tip: Find a contract lifecycle management system or repository that integrates with your eSignature solution. For example, Pactly's contracting platform can be directly integrated with DocuSign or integrated with AdobeSign so that contracts that have been reviewed and finalised by your team can easily be sent for e-signing. Once the signature page is completed by all the parties, we automatically update the status of that matter and save a copy of the fully signed contract in our repository to make it easy for you to find it in future.
When is a wet signature still required on a Contract?
With all that has been discussed, does that mean we should always be e-signing all our documents? There are still several countries and specific instances where you may need to sign a contract with wet-ink. As signing requirements differ from jurisdiction to jurisdiction, it would always be best to check with the relevant lawyers if there are any requirements you should be aware of when signing contracts in unfamiliar jurisdictions. As a starting point, we've provided a short summary of some of the common jurisdictions our clients operate in.
1) United States
In the United States, a wet signature may be required for wills, trusts, adoptions, divorce proceedings, court orders, evictions, and insurance benefits. You should also allow a wet signature when the document recipient insists upon it.
2) United Kingdom
In the United Kingdom, certain documents still have to be signed by hand, including
Family law documents such as prenups and separation agreements

Real estate deeds such as transfer of title, legal mortgage, and release of a mortgage

Most leases

HM Customs and Revenue documents
3) Singapore
While electronic signatures are permitted in Singapore, there are exceptions, such as negotiable instruments, documents of title, bills of exchange, indentures, declarations of trust, powers of attorney, and contracts for the sale or other disposition of immovable property. When it comes to deeds, a witness must be physically present and sign the attestation clause. Due to the legal uncertainty surrounding electronic deed execution, it is preferable to avoid it.
4) Malaysia
Electronic signatures for Powers of Attorney, Wills and Codicils, Trusts, and Negotiable Instruments are expressly prohibited by Malaysian law. Real property instruments and instruments of transfer must be notarised or attested by a commissioner for oaths or notary public and cannot be signed electronically.
5) New Zealand
Wet signatures are required in New Zealand on powers of attorney, affidavits, statutory declarations, bills of lading, wills, codicils, or other testamentary instruments, warrants, and intellectual property transfers. Real property transfer contracts and deeds must be notarised.
6) Indonesia
Most types of documents that can be signed electronically in Indonesia are not subject to any specific restrictions.
7) Vietnam
Specific requirements or caution should be exercised in Vietnam before using Electronic or Digital Signatures for
contracts of transfer of immovable assets, construction contracts, loan contracts, and security contracts;

documents or contracts that must be notarised, sealed, or submitted to government officials;

powers of attorney and contracts of mandates; and

contracts of sale and purchase of certain assets.
8) Philippines
While using electronic signatures with government agencies in the Philippines is not prohibited, caution should be exercised before using electronic signatures for transactions with such agencies.
9) India
In India, electronic signatures are not permitted for the following documents or transactions:
Other than a cheque, negotiable instruments such as promissory notes or bills of exchange;

powers of attorney;

trust deeds;

wills and other testamentary dispositions; and

contract for the sale or conveyance of immovable property or any interest in such immovable property.
Final Thoughts
An electronic signature is usually acceptable and legally valid for most business contracts and agreements and is a good default to start with since it is more convenient, faster and cheaper. If you are unsure or dealing with a high-risk contract, make sure to check with your counterparty or consult a lawyer on jurisdiction-specific laws and rules around electronic signatures. A valuable resource that covers many jurisdictions is this Clifford Chance's resource on when electronic signatures can be used.
The transition to electronic signature software can appear intimidating, but it can be something that is a relatively quick win for most legal teams looking to embark on their legal transformation journey; it's a relatively simple process to get started on a scale that you are comfortable with and provides very visible benefits and ROI for your stakeholders. If you need some help with legal documents, we'd love to have an obligation-free one-on-one conversation with you about digital signature platforms and digitising your contractual processes, including building your contract negotiation playbooks. We work with many legal teams of all sizes and provide a Contract Lifecycle Management solution that helps you draft, review and manage all your contracts.