Choose a plan that suits your contracting needs
Try our Growth plan with a 30-day free trial. Cancel anytime. All prices quoted in USD
Essentials
Best for solo counsels or teams of 1 or 2 that are exploring modernizing their contracting process
1 user included

Unlimited negotiation playbooks

Manage up to 3 contract templates

Up to 10 AI-assisted playbook reviews

Contract repository; document versioning

Contract analytics
Growth
Best for growing teams that would like to include a wider range of contracting professionals and business users in an improved process
5 users included

Unlimited negotiation playbooks

Manage up to 12 contract templates

Up to 30 AI-assisted playbook reviews

Contract repository; document versioning

Contract analytics
Enterprise
For larger legal teams (> 5 users) with more customisation and configurations required
10 users included

Unlimited negotiation playbooks

Manage up to 30 contract templates

Up to 75 AI-assisted playbook reviews
Need help deciding?
Let's discuss your use case!
Get a clear overview of what you can do with Pactly and get all the answers to your questions.
Save big with Pactly
Pactly replaces a bunch of apps. See how our all-in-one approach compares to having multiple solutions and worrying about them working together.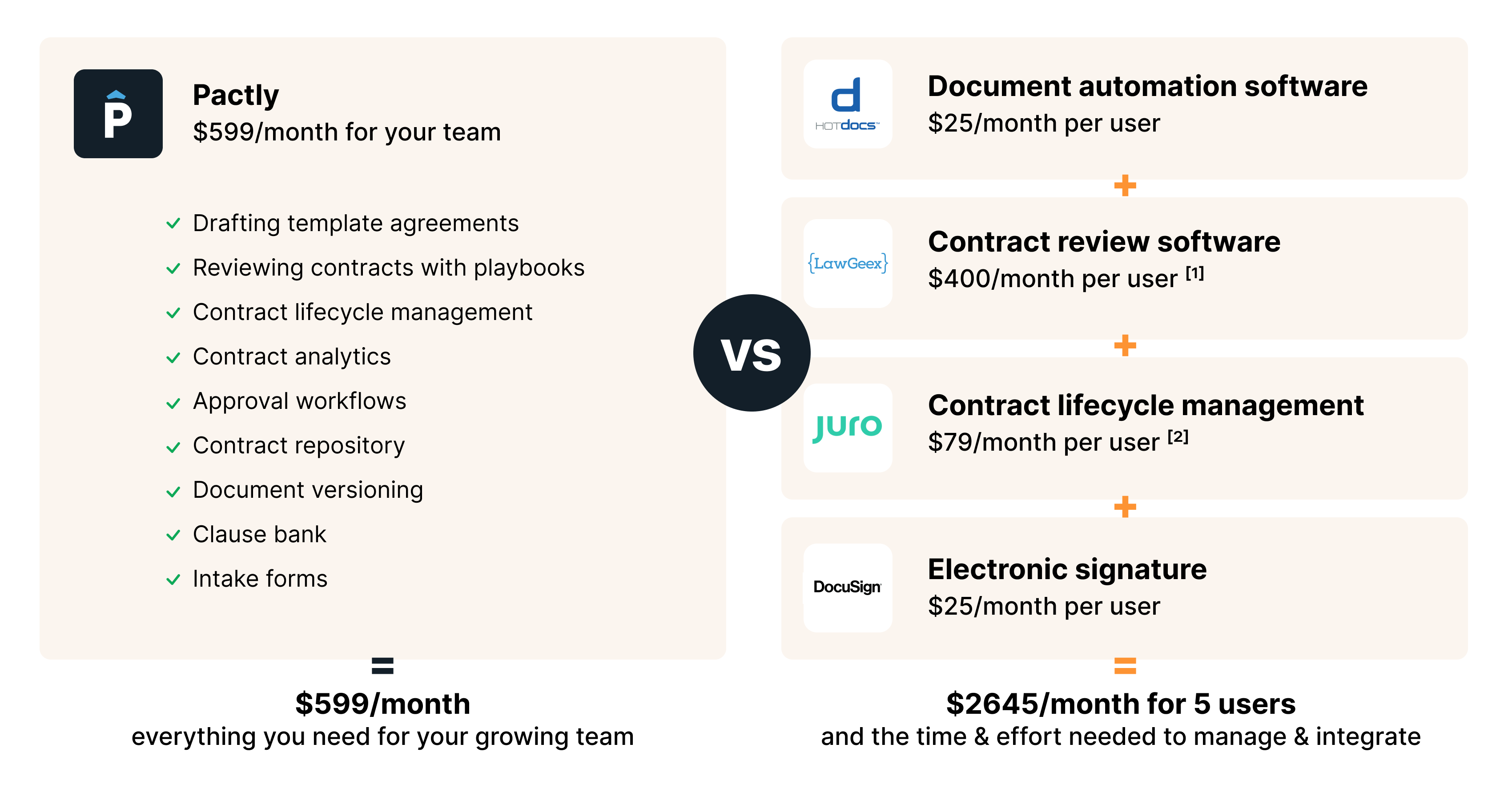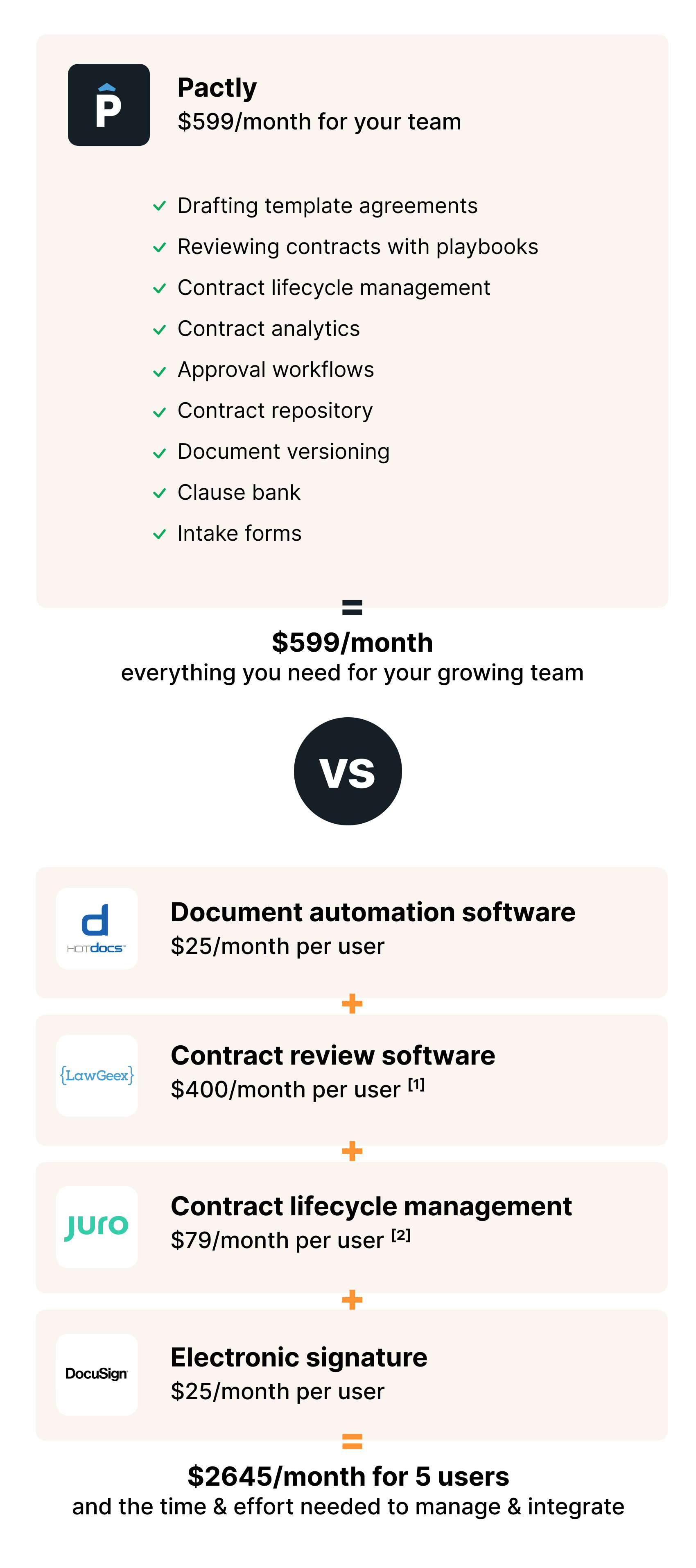 Driving value for businesses and legal teams of all sizes

Pricing FAQs
Frequently asked questions
Is there a free trial?
Yes! We offer a 30-day free trial where you can try all the features of Pactly. Get started for free by completing this form and receive an invitation to set up a Pactly workspace.
Can I cancel my plan anytime?
Yes, you can cancel any time without justification or hidden costs. Your subscription will end at the end of the subscription period that you've signed up for (i.e. end of the month/year you've subscribed for).
Is it possible to add my teammates to my trial account?
Yes, definitely. On the Growth plan, you'll be able to add at least 4 other users to the workspace in addition to yourself. If you need more user seats for the trial period, do reach out to us at hello@pactly.com
Does this work if I am a solo legal counsel / general counsel?
Yes, definitely. Many of our most active users are solo counsels. The popular use cases tend to be driving self-service by the business teams and incrementally building the right foundations for scaling a legal team (e.g. setting up a review checklist, consolidating internal know-how around negotiating key agreements).
Is Pactly the AI Robot lawyer we've be looking for?
No, we've built Pactly on the assumption that you'll still be reviewing (or glancing through) the contract. Our objective isn't to build a robot lawyer but to design deliberate capabilities and processes using our platform to help you review faster and negotiate less (e.g., introducing better structure in templates and helping you adapt your negotiation strategy). If you're looking for a solution to make all the edits and send it out automatically, we may not be the best fit for you.
I have more questions ...
You can also send an email to Ivan at ivan@pactly.com