Driving efficiency & consistency in your contract review
Improve how your team reviews contracts by developing a digital contracting playbook that works for template and non-template negotiations. Constantly improve the quality and consistency of your legal review by tapping into historical insights and adding your preferred clauses, fallbacks and guidance notes.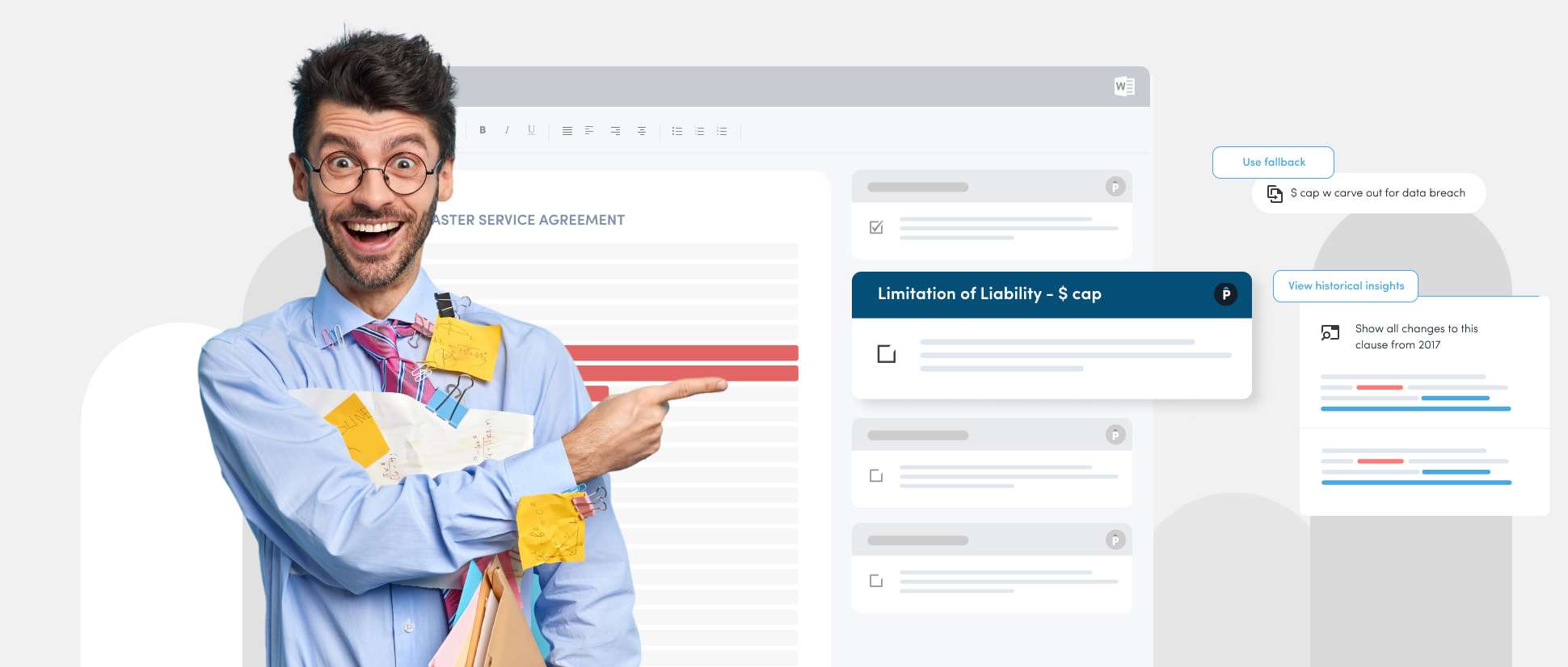 Trusted by businesses and legal teams of all sizes

A better way of managing contracting positions and know-how
Lengthy contracting manuals or checklists take hours to prepare, and more importantly, your team doesn't read them. Instead, build your know-how incrementally into your templates and playbooks using Pactly.
🏖 By presenting what is relevant, exactly when you need it, we make contract review simpler.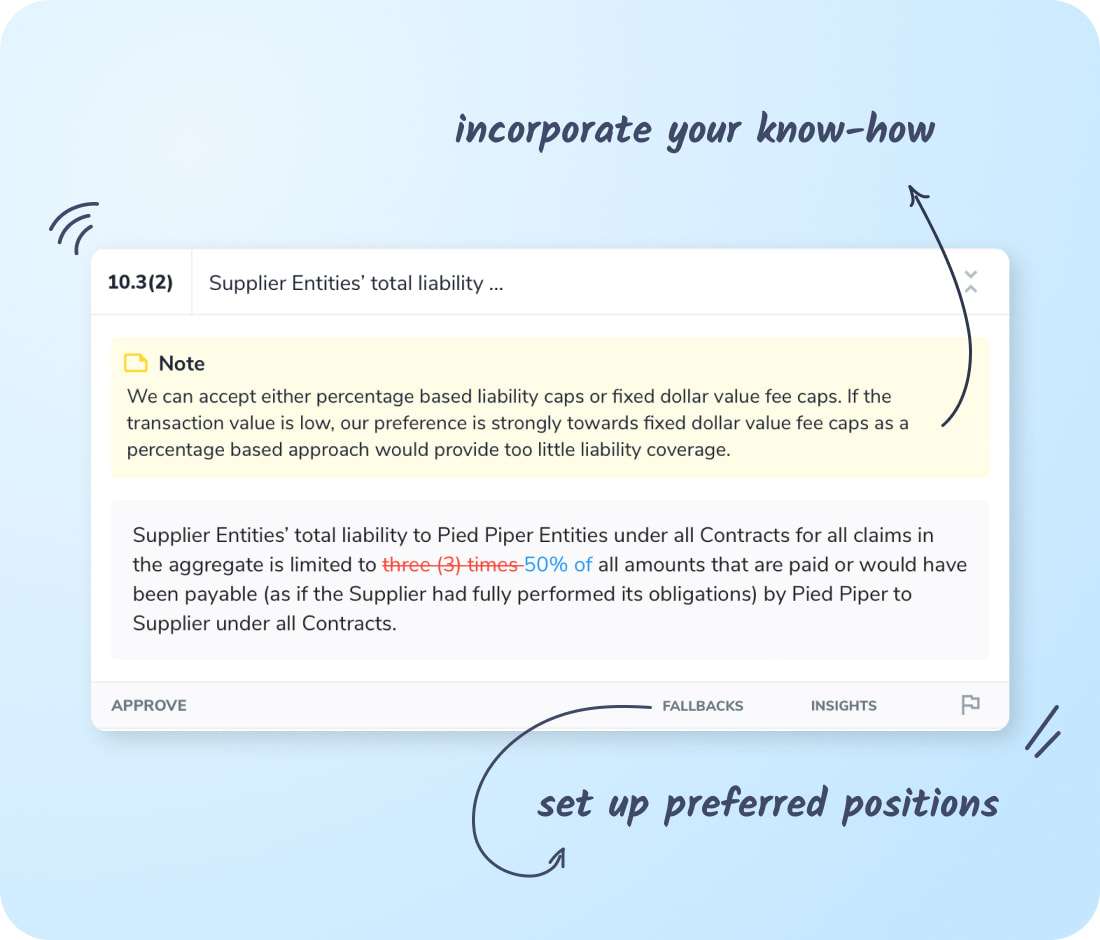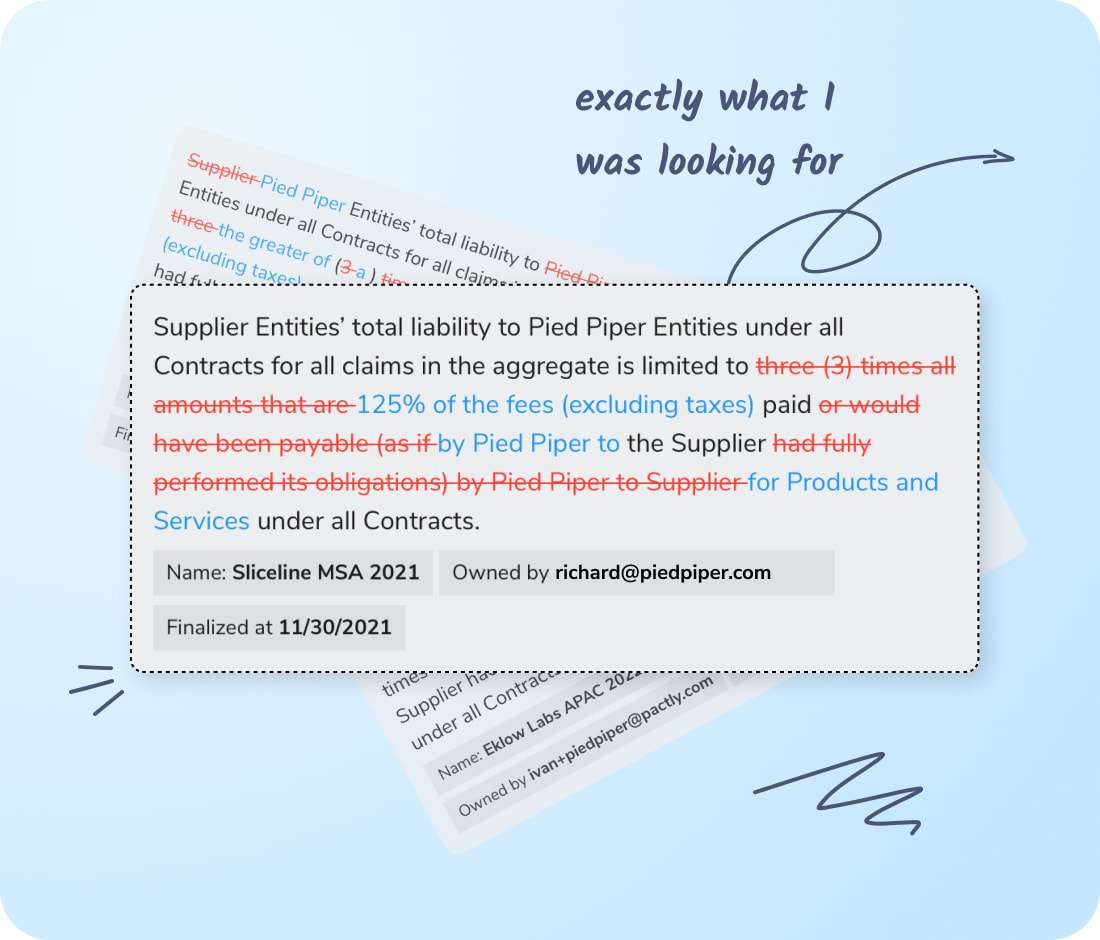 Leverage historical insights to find agreement and drive greater consistency
When reviewing a contract, inspect how your team previously negotiated the same clause or position to find alternate drafting possibilities. In addition to exploring drafting alternatives, understanding what your team agreed to with comparable counterparties allows you to develop greater consistency in your negotiations.
🎯 A better contract review process is not just faster but a lot more consistent.
Automate routine checks to ease your reviewer's workload
Spend less time checking if the governing law is acceptable or whether an assignment is permitted by setting up pre-built automated checks. Pactly comes with numerous checks that you can use out of the box with common contract types like non disclosure agreements/confidentiality agreements, services agreements, MSAs etc. Alternatively, you can also work with us to further develop automated contract review checks for the more specialised areas of your process.
🤖 Using automated checks is a scaleable way to deal with a high contract volume.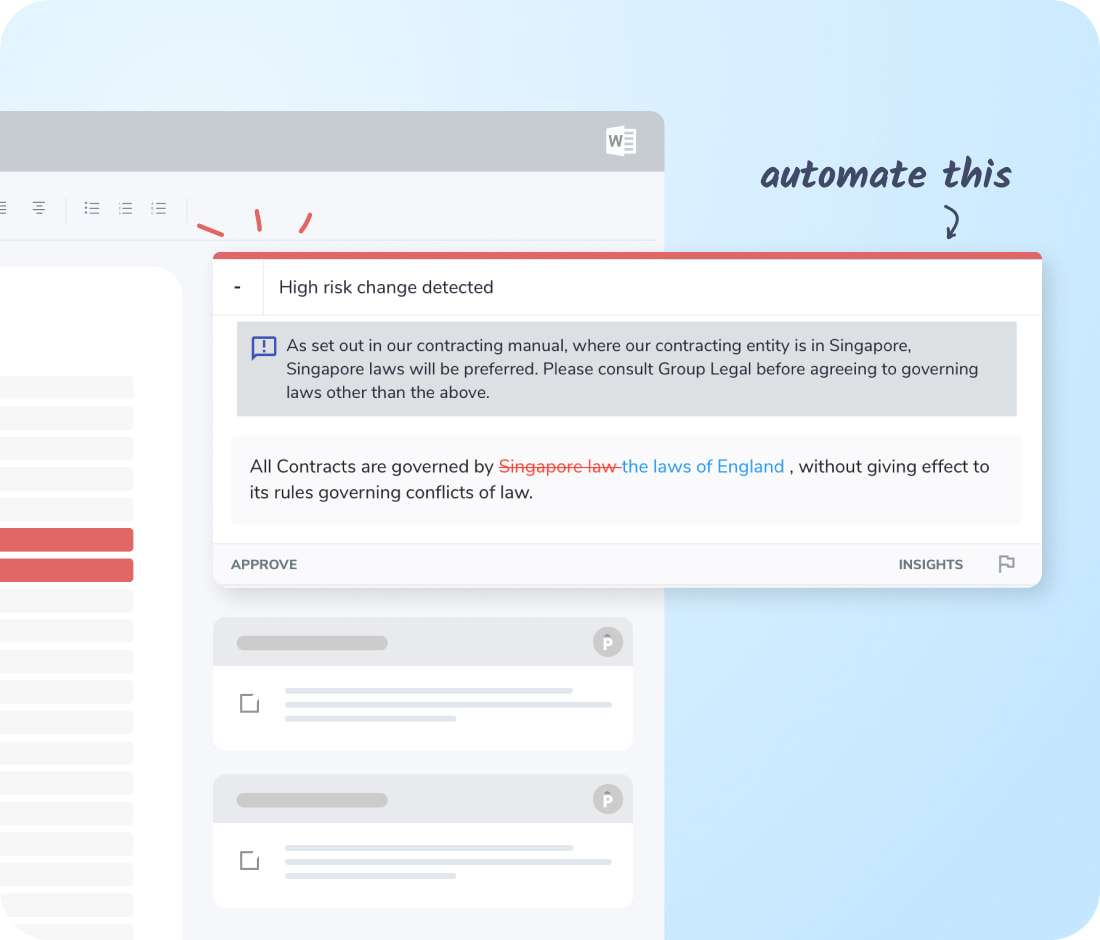 Better contracting is more than just adopting the latest AI solution
The last couple of years have seen significant interest in using artificial intelligence for legal document review. There is no doubt that AI is valuable, and we have chosen to incorporate AI into numerous components of our product. However, relying on AI contract review is only half the battle. You are solving the wrong problem if you're using AI only to negotiate things you shouldn't even be negotiating.
Instead, the key to an excellent contracting process is a well-structured contract negotiation playbook, which arms you with the information you need to negotiate better, and supports you with the right amount of automation. This is where modern contract review solution like Pactly comes in.
Managing Approvals & Contract Lifecycle
A structured contracting process lends itself to better collaboration across teams
A more structured contract review process means you can also clearly signpost to your users when other business stakeholders' input is required. Do you need Tax to sign off on the change in who bears the withholding tax burden? Make it known early to your user so they know whom they need to speak with to get the contract finalised. See how Pactly deals with such approvals and how CEOs and General Counsels can maintain a reasonable level of oversight in approving the finalised contracts using Pactly.
FAQs
Frequently asked questions
Do I need to have a negotiation playbook?
Most customers prefer to onboard their negotiation playbooks (a.k.a. contract review checklist, legal review playbook), but there is no strict requirement to have one. We have a couple of playbooks out of the box and can work with you to develop one from scratch or introduce you to one of our partners to help you with this.
What kind of contracts do you review?
There is technically no limit on what type of contracts you can review using Pactly. Playbooks are customisable either on your own, with our partners or with us. We have seen customers use playbooks for real estate contracts, leases, supply of goods/services contracts, employment agreements, procurement contracts, software licenses and many other business contracts. We also provide playbooks to review a non disclosure agreement (a.k.a confidentiality agreement) and services agreements and will be adding more to our standard library.
Is the review fully automated? Will the AI make all the changes and send out the draft for me?
No, we've built Pactly on the assumption that you'll still be reviewing (or glancing through) the contract. Our objective isn't to build a robot lawyer but to design deliberate capabilities and processes using our platform to help you review faster and negotiate less (e.g., introducing better structure in templates and helping you adapt your negotiation strategy). If you're looking for a solution to make all the edits and send it out automatically, we may not be the best fit for you.
Does this work if I am a solo general counsel?
Yes, definitely. Many of our most active users are solo counsels. The popular use cases tend to be driving self-service by the business teams and incrementally building the right foundations for scaling a legal team (e.g. setting up a review checklist, consolidating internal know-how around negotiating key agreements).
Generally, most of our customers are in house legal departments (as opposed to law firms).
Do you use artificial intelligence/machine learning?
Yes, Pactly is a legal technology company that offers a contract AI review solution. We use machine learning models primarily to identify clauses and concepts present or absent in your agreement as part of our process to review contracts. This model-based identification is the first step in remediating most issues, and it helps us provide the relevant context to the user and speed up the review.
Driving efficiency & consistency in your contract review