Stay organised with a powerful contract lifecycle management solution
Get real-time visibility into what team members are working on, and stay organised throughout the entire contract lifecycle from request to execution. Better information helps you make quicker decisions.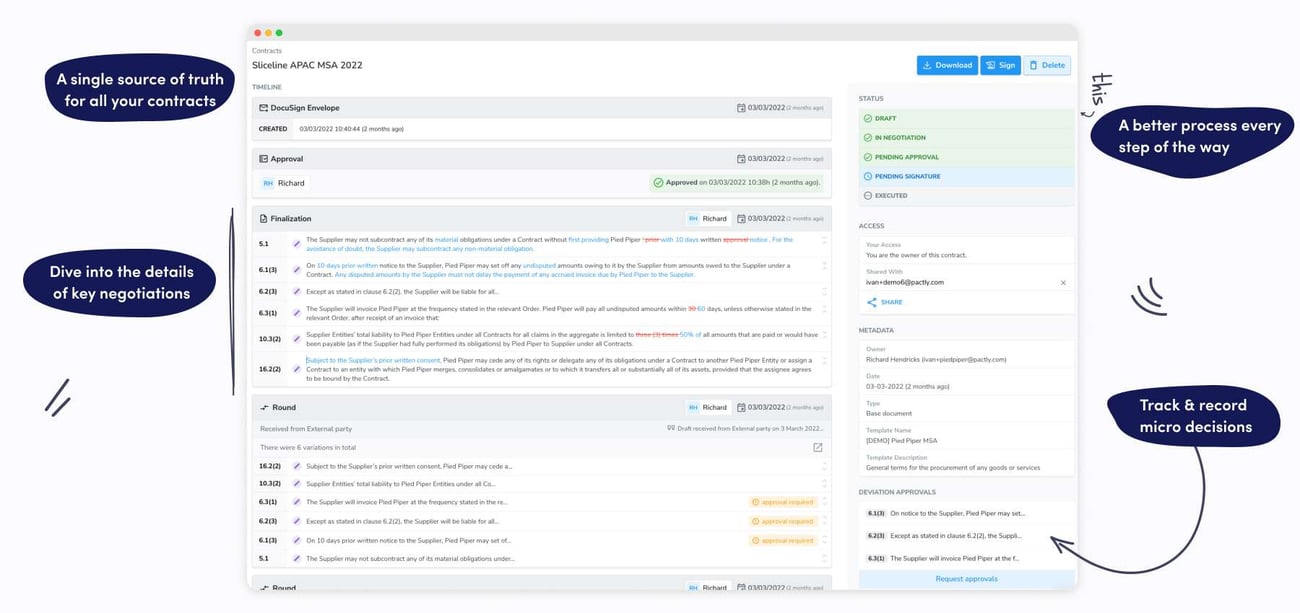 Trusted by businesses and legal teams of all sizes

Stay organised with a unified contract repository
Easily keep track of your active negotiations and get an overview of any potential delays or blockers. Equally important, you can also look up your historical contracts and quickly find the answers you need for your internal stakeholders.
📂 Centralising where and how you store your contracts is essential in keeping contract negotiations organised and painless.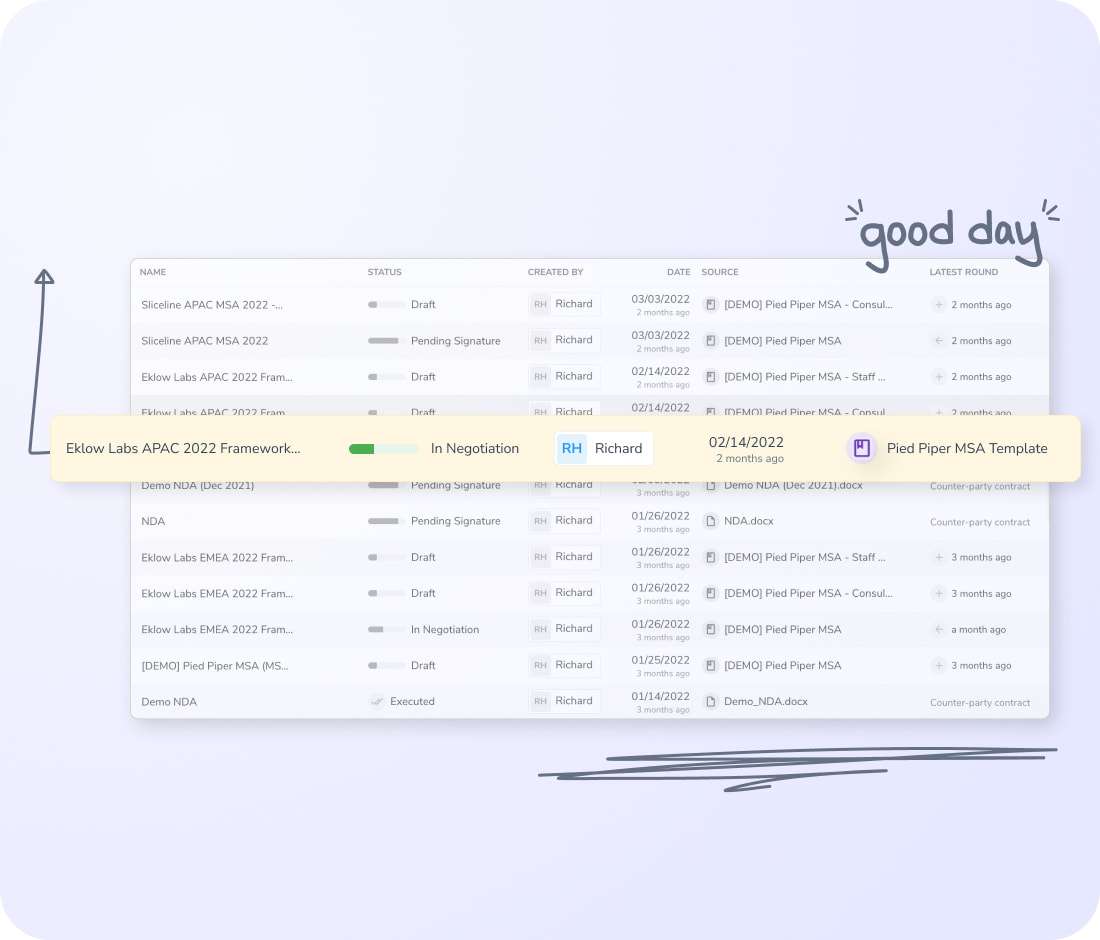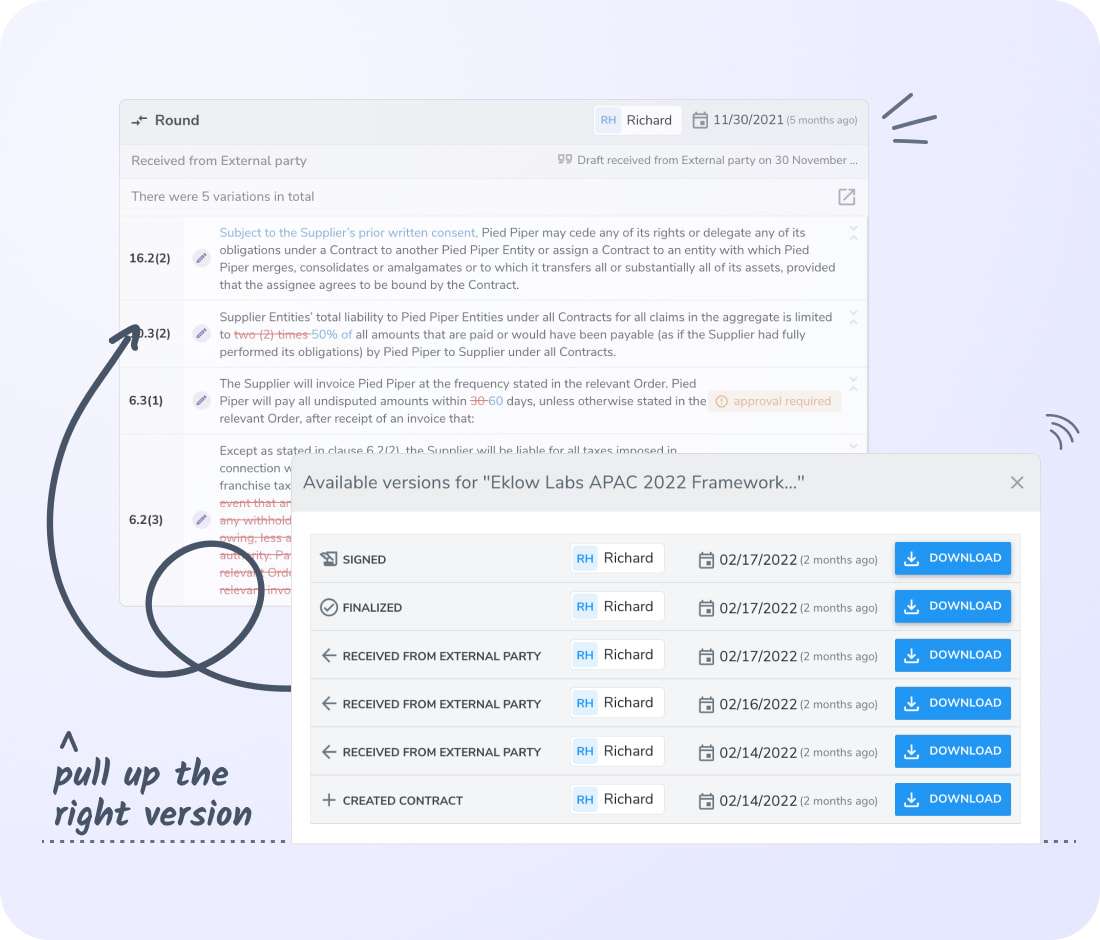 Keep track of document versions and quickly scan differences
We capture snapshots of every significant moment in your contract lifecycle and make it easy for you to retrieve the various contract versions quickly. If you need to dig into the details, inspect the differences across versions via our easy-to-use web interface.
🔺 Stop wasting time running comparisons. We'll handle the versions and make it easy by showing you what's changed.
Contract approval built on confidence, not blind faith
Build sensible safeguards into your contracting process to warn of unauthorised deviations and capture the right level of detail for such deviations. Providing your approvers with such detail will ensure that they have the necessary context to approve if needed.
🙏 Don't leave a 100-page document on your CEO's desk. Instead, provide the right amount of information for informed approval and make it easy.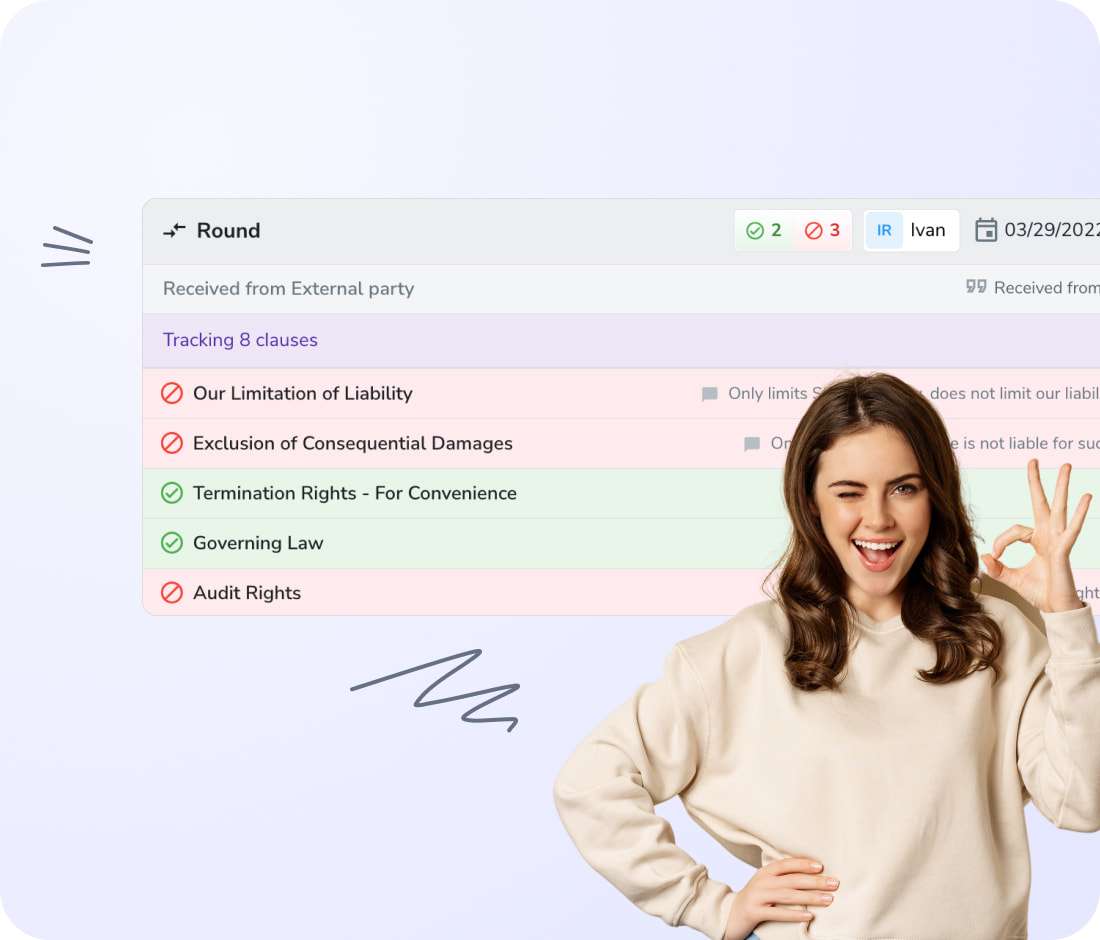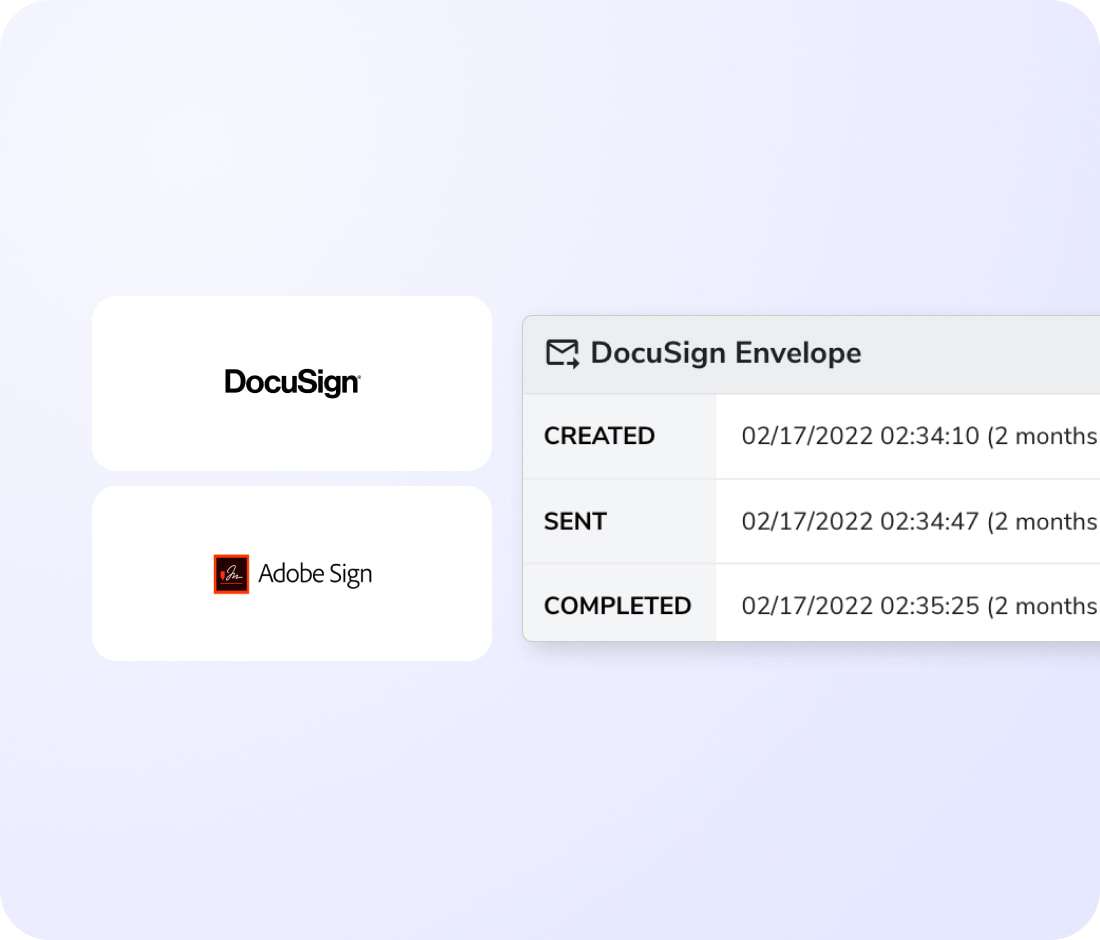 Integration with electronic signature solutions
Pactly integrates well with DocuSign and AdobeSign, making it easy to collect signatures once your contract is approved. With these integrations, Pactly tracks the status of any pending signature packets and automatically updates the repository once everyone has signed.
🖋 Seamlessly collect signatures and have everything automatically tracked back to your repository.
Auditable Timeline
Pactly captures the key details across the entire contract lifecycle management process in individual timelines for every contract. These details include change and approval history, justifications for deviations, email correspondence, and round changes.
🧐 Understanding what happened and the 'whys' in previous negotiations can be critical in informing future decisions.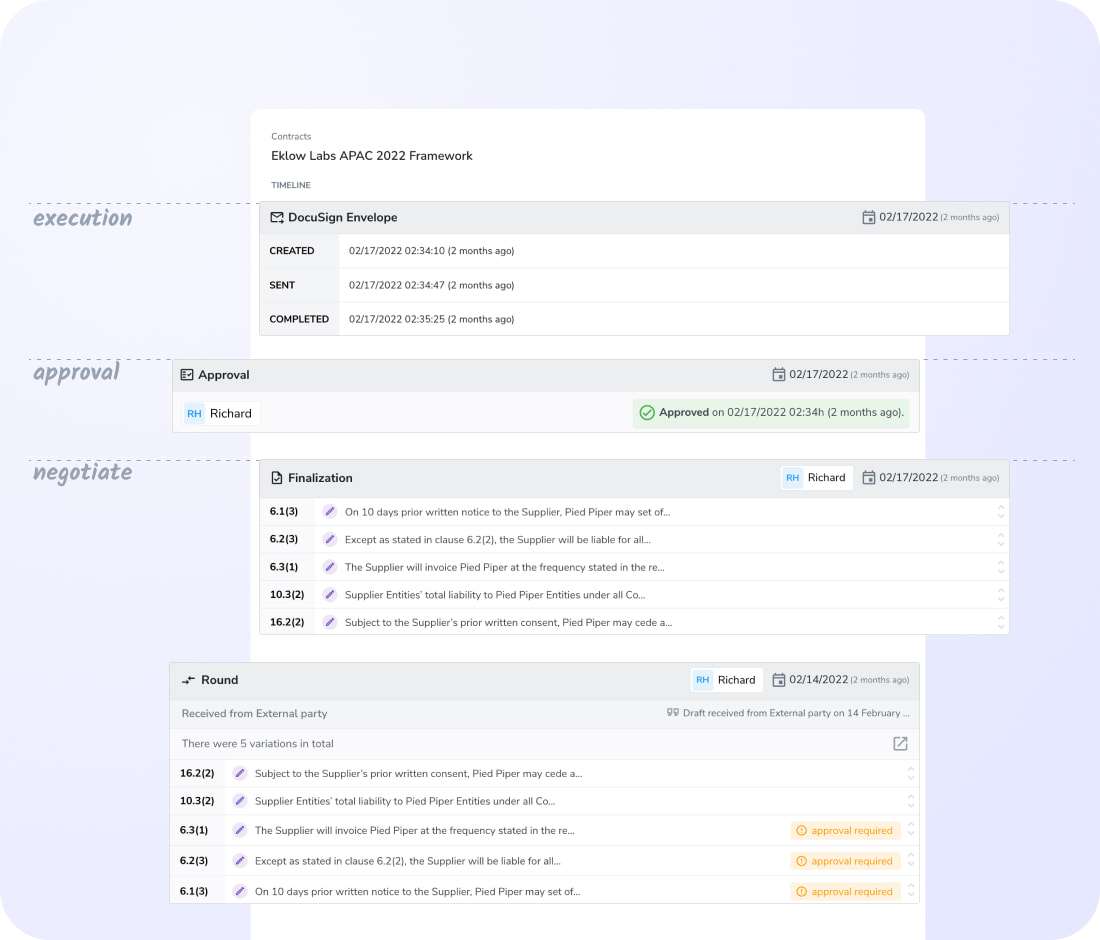 Actionable & Meaningful Contract Analytics
Now that we've signed, what's next?
In 9 out of 10 organisations, contracts get filed in the 'repository' as soon as they are signed and are forgotten. More organised legal teams may extract information from these executed contracts to keep track of ongoing management and compliance requirements. However, in most cases, this 'file and forget' approach means that the learnings and thinking that went into this particular contract negotiation are lost and not used for improving subsequent negotiations.
See how Pactly captures contract data to improve the review process and support continual improvement of your templates, playbooks and team.
FAQs
Frequently asked questions
Are my contracts safe with Pactly?
Yes, we understand the sensitivity of the data we hand, and we take security seriously. We are ISO-27001 certified and implement controls and processes compliant with current industry best practices for cloud security.
Does this replace SharePoint, DropBox, or any version control or document management system as my file repository?
Some teams use Pactly as their exclusive central file repository for storing their pre-execution and post-execution contracts. While preferences vary from team to team, Pactly works well with most document management systems if you choose to use them side-by-side.
How does Pactly compare to other contract lifecycle management software (e.g. DocuSign CLM, Apptus CLM, Icertis CLM) in the market?
Unlike most contract lifecycle management software, Pactly is more than just a workflow solution. We've built the platform to address the two most significant areas to help organisations improve their contracting process. The first area is about developing a better process to manage contracts, and this is where CLM software comes in. The second and more significant area is developing better templates, negotiation playbooks, and legal know-how to improve the speed and quality of contract review. We are one of the more unique CLM software providers that have combined these capabilities in the two areas into a unified and accessible platform.
Does Pactly provide electronic signature capabilities?
Currently, we integrate with DocuSign and Adobe Sign, making the process of obtaining electronic signatures seamless. Do note that you'll need a separate subscription for these solutions. We are also developing native electronic signature capabilities for users with no separate subscriptions to DocuSign or Adobe Sign.
We have a complex approval process already set up with [Solution X]. Can we still use Pactly?
Yes, the process is less seamless than if you chose to handle approvals via Pactly. However, we can configure your workflow so you can download the relevant final version and send it to the approvers via email or upload it into your approval management solution. Once the contract is approved and signed, you can re-upload the fully executed document to Pactly.
Stay organised with a powerful contract lifecycle management solution