Create professional first draft contracts with ease
Onboard your template contracts on Pactly and empower your sales, procurement, and HR teams to quickly generate template agreements by completing a simple questionnaire.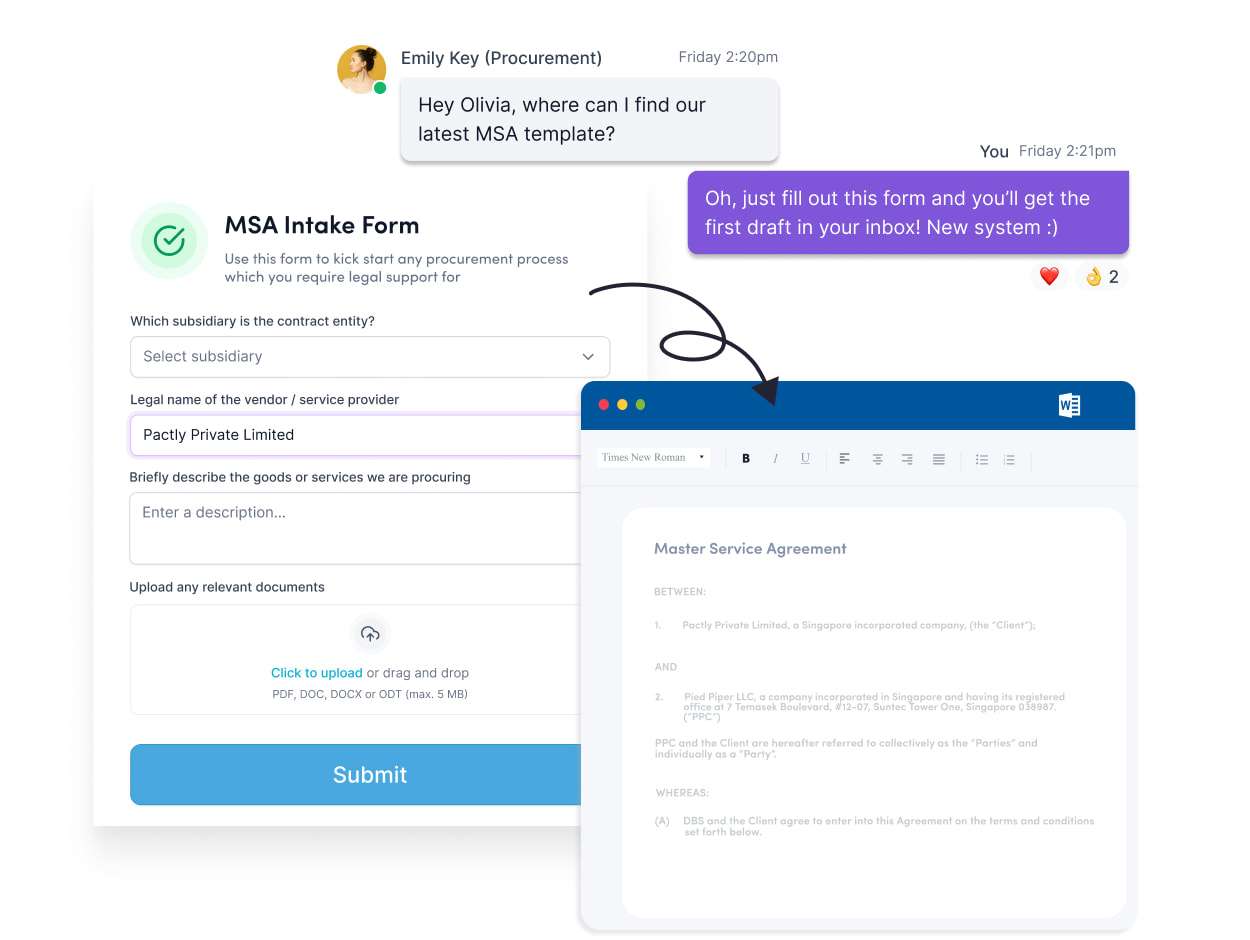 Trusted by businesses and legal teams of all sizes

Get your draft contracts sent out faster
The average organisation takes three days to prepare a first draft contract. Using Pactly, your team can complete a series of simple questions and get the accurately completed draft contract back in their inbox.
🚀 Drive greater self-service within your sales, procurement and other business teams.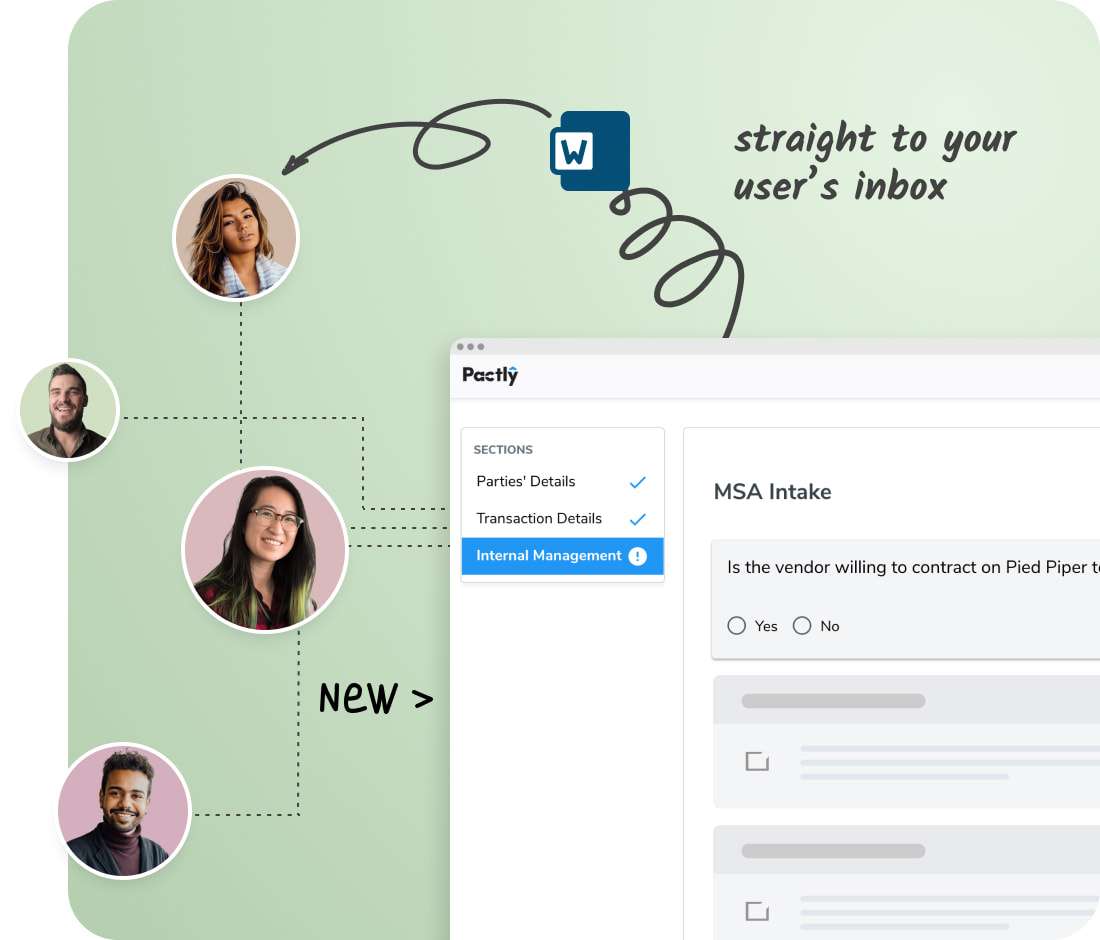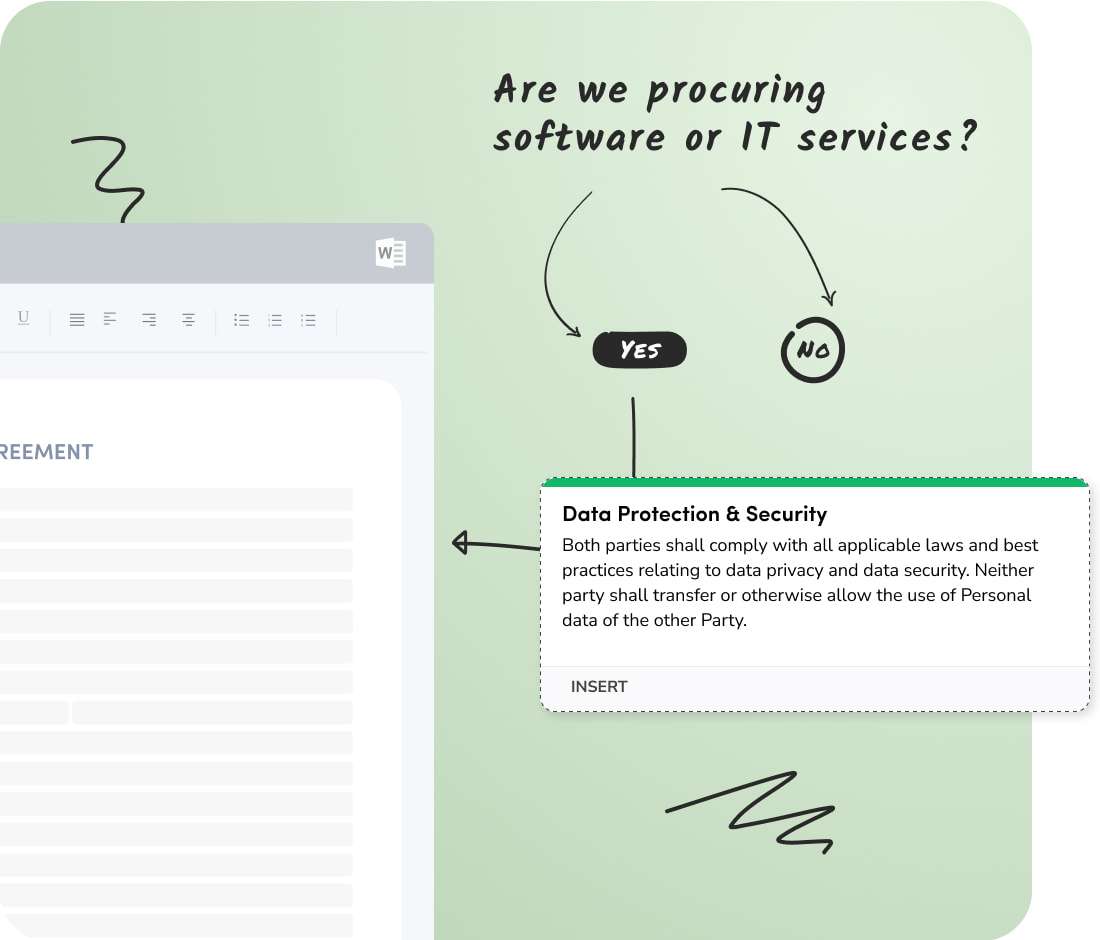 Enable greater flexibility in your first draft contracts
Include or exclude clauses depending on questions you ask your user. This added flexibility means you can include specific clauses like data protection and cybersecurity warranties when you are procuring software and exclude them if you're buying physical goods.
🎉 Keeping it simple and relevant means shorter negotiation times.
Be confident that the correct templates are being used
Share access to your templates with your team via a private link or through a permanent link you can include in your intranet. Either way, users will always have access to the most up-to-date version of these business contracts.
🎖 This way, you'll always be transacting using the correct version.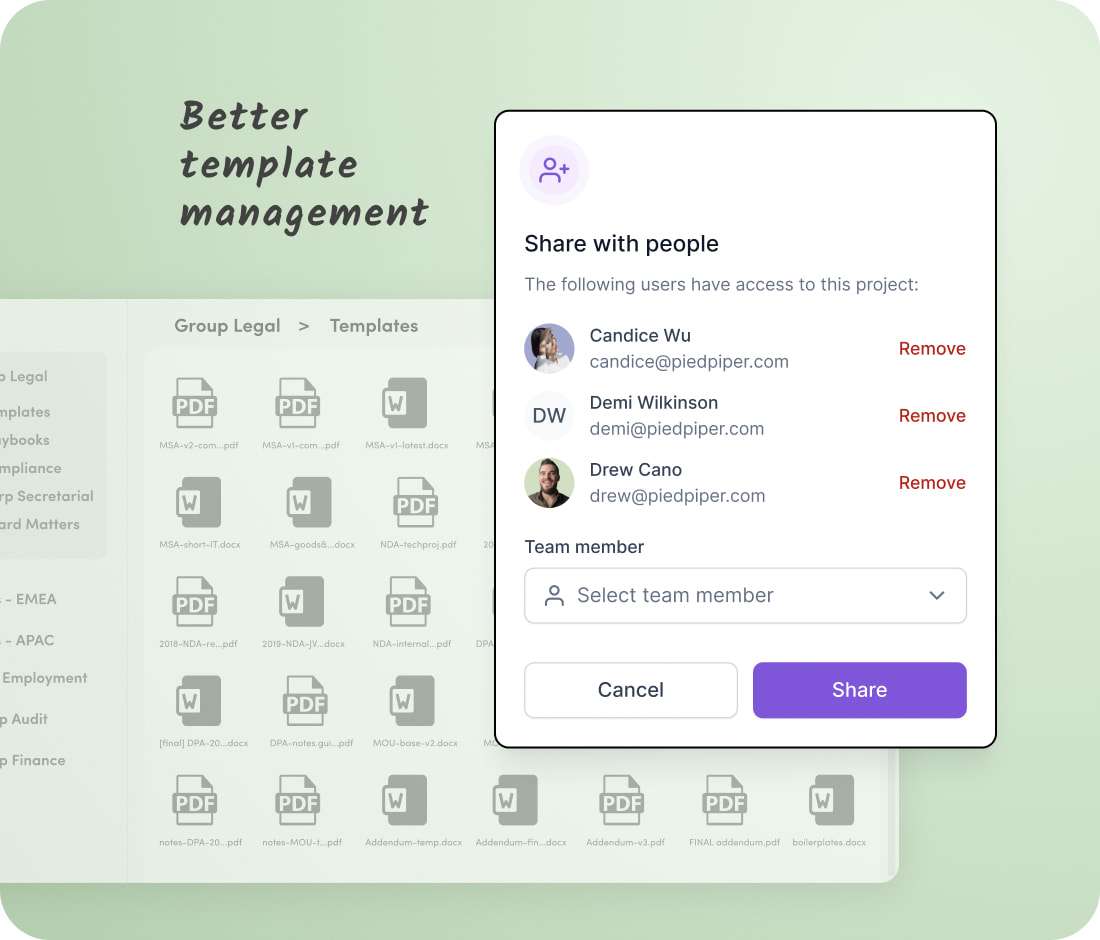 Works with all kinds of agreements
Support all your business groups
Our customers have onboarded all kinds of contracts on Pactly, ranging from simple 2-page documents to complex 100-page documents. Some examples include:
Master Service Agreement (MSAs), Services agreement
Non-disclosure agreements, confidentiality agreements
Business contracts, e.g. sales contracts, SaaS agreements
HR-related or Employment Agreements
Investment documents, e.g. shareholders' agreements, asset purchase agreements

Get started drafting with Pactly and set yourself up for better negotiations
A massive advantage of using Pactly to generate your first draft is that we pull up all the relevant information you need when the redlines inevitably come back. We'll automatically show you the relevant guidance notes, deviation approvals required, pre-approved fallbacks and past variation insights. See how these capabilities simplify reviewing and enable your legal team to negotiate more effectively.
FAQs
Frequently asked questions
Does Pactly come with legal document templates, or do I have to provide my templates?
We have a mix of our standard templates and other open-source templates that are primarily NDAs, SaaS Agreements and sample sales contracts. We are constantly adding more business contract templates to our library, but most of the customers we work with prefer to onboard their own organisation-specific templates.
How is Pactly different from other document automation or template automation software?
Purely comparing the generation of the first draft, Pactly is comparable to the standard document automation or template automation solutions available (e.g. Contract Express by Thomson Reuters). However, we don't stop just at generating the draft; the key is how we support your lawyers in reviewing the changes (a.k.a. redlines) to your template and how we use this redlining data on an ongoing basis to recommend improvements to your template and your processes.
Do we have to learn to set up our templates on Pactly? Does this involve any custom language or coding?
Our solutions team will help you onboard your templates as part of onboarding, so you don't have to worry about learning how to do so. On our end, this means helping our clients clean up the document styles, numbering and formatting, and configuring the document to contain the relevant question input logic and conditional logic. It's a hassle-free process, and once we're done, we'll show you how you can maintain your templates and make minor changes to them over time.
Does Pactly only work with template contracts? What about non-template agreements from a third party?
Yes, we also work with non-template agreements (a.k.a. counterparty contracts, third party paper). Since you won't be the one generating these contracts, the workflow is slightly different, and the process begins directly with a review: read more about reviewing contracts here.
Create professional first draft contracts with ease